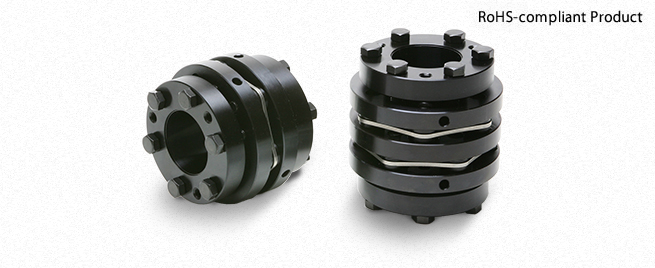 These models were developed to be compatible with spindle applications on machine tools. They are disc spring couplings capable of high precision and high speed. To enable high-precision mounting, both the flange unit and the pressurization flanges are equipped with centering mechanisms. They are also shaped so that the flange covers the periphery of the disc spring with few raised or lowered surfaces to minimize whistling during high speed rotation. Both single-element types with ultra-high torsional stiffness and flexible double-element types that separate double elements with a spacer are available.
Maximum rotation speed 20000 min - 1
A design specialized for high-speed operation achieves a top speed of 20000 min-1. It delivers stable power transmission at high speed.
High-precision mounting
Since frictional coupling is used to mount on shafts, you can achieve high coupling strength simply by fastening the pressure bolts at the end surface of the flange, in order. And since the pressurization flange is equipped with a centering mechanism, highly precise mounting is easy.
Low noise
A design that covers the outer periphery of the disc spring with the flange and embeds pressure bolts within the pressurization flange minimizes raised and lowered surfaces on the outer periphery and end surfaces. This can greatly reduce whistling at high speeds.
Supports wide range of shaft dimensional tolerances
The basic class for the shaft dimensional tolerances is h7, but a wide range is supported, including k6, m6, and j6.
Balancing is available
We provide optional balancing. This helps achieve dependable high-speed operation.